| | |
| --- | --- |
| The Narcicyst - Stuck Between Iraq And A Hard Place Volume 3 | |
---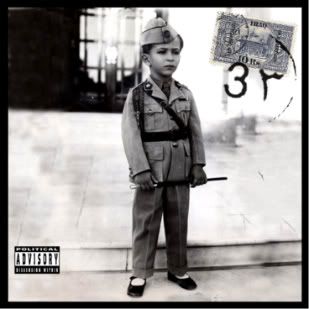 DOWNLOAD HERE!!

This will be the last mixtape in the series! I'll be dropping more music in different ways in the coming year. Most of these tracks are originals recorded over the span of the making of the album. Other tracks are freestyles to well-known beats that inspired me. !

1. Intro
2. Exhibit N (Produced by Just Blaze for Jay Electronica's "Exhibit A")
3. Floosee (Produced by Kanye West over "You Can't Tell Me Nothing")
4. I Don't Do Sheesha (featuring Habib in Lebanon)
5. Talk This Loud (Produced by Marley Marl for LL's "Mama Said Knock You Out")
6. The Evident Premix(Produced by 7D) / Groupie Love?
7. Heeeeellllll No!!!!!! (Produced by MainFrame)
8. He Said/She Said (Produced by Sandhill, featuring S)
9. Qalb Kalbi featuring DAM (Produced by Christobal of Metazon)
10. Stop (Produced by Omar Offendum, featuring Excentrik)
11. Home (Produced by Soulphonic)
12. Fingerprints-Hobson Jobson(Produced by Lou Piensa)
13. Baghdad (Produced by The Narcicyst and Qurna)
14. Mountain-Hobson Jobson (Produced by Ghost Town)
15. Must Be Going Nuts (Produced by 80rock)
16. Thank You (Produced by NO I.D. for Jay-z's "Thank You")
17. Public Enemy 2&3-Hobson Jobson (Produced by Adam Sampler)
18. Hamdulillah (Emirates) (Produced by The Narcicyst and SandhiLL, featuring Shadia Mansour & Stefan Christoff)

Hobson Jobson is The Narcicyst and Omar Offendum. Next.

__________________


SELL BEATS NOT DRUGS




Dieser Beitrag wurde 1 mal editiert, zum letzten Mal von Miyagi-San: 17.11.2009 16:59.